LGBT Rights, Politics & World News
Articles -
LGBT Rights, Politics & World News
Written by sayoni
Thursday, 06 November 2008 00:00
It is good news and bad news today – in the good news, Barrack Obama was elected President of the United States.
In the bad news, three states – Arizona, California and Florida, have voted to pass a constitutional amendment that defines "marriage as being between a man and a woman" only.
The most upsetting of these setbacks, was in the state of California, where Proposition 8 was defeated by a margin of 4% [with 95% of precints reporting in]. At the time of publication, it does not look likely that Proposition 8 will be defeated, and hence, we have to accept the cold hard reality that one of the largest, and supposedly liberal states in America has decided that people like us do not deserve equal rights. [Click here for updates]
Now, readers are inclined to ask: how is this related to us? We do not live in America, for this to really affect us. However, this is likely to have repercussions in both America and abroad, in the march towards progress. After the court case that allowed same-sex couples to get married, this step backwards is a big blow to equal rights. Even though domestic partnerships are still allowed, they are not the same as marriage, and does not confer many of the important rights that come with marriage.
Here's us hoping that in the years to come, the constitutional amendment will be overturned, though it is so much harder to do.
Last Updated on Tuesday, 16 February 2010 14:48
Articles -
LGBT Rights, Politics & World News
Written by sayoni
Saturday, 01 November 2008 00:00
This news was reported in the Straits Times.
3 others in Orchard Towers brawl will be sentenced Nov 6
By Sujin Thomas

BIRTHDAY party celebrations at an Orchard Towers pub last November turned ugly when six men ended up beating another to death.

After he was assaulted in the early hours of Nov 23, Suhaimi Sulong, 37, was taken unconscious to the Singapore General Hospital.

He died an hour later from head and neck injuries.

Yesterday, three of his attackers – Muhammad Ridhwan Mohd Roslan, 20, Ho Ching Boon, 17, and Lai Chee Kuen, 17 – were sent to the reformative training centre.

There, younger offenders are confined for between 18 months and three years and put through a tough regimen of foot drills, counselling, education and vocational training.

The packed courtroom was filled with teary eyed family members of the three men.

The remaining three in the dock – Muhammad Sufian Zainal, 21, Ahmad Nur Helmy Ahmad Hamdan, 20, and Helmi Abdul Rahim, 28 – will be sentenced on Nov 6.

According to court documents, the six had gone to the Brown Sugar pub on the second floor of Orchard Towers on the evening of Nov 22 to celebrate a friend's birthday.

A few hours later, Lai and Ho left the pub briefly and were approached by Suhaimi, who asked them if they wanted oral sex. Both men declined.

Later, while Ahmad was combing his hair in a toilet, Suhaimi approached him with the same question. Ahmad responded with a hailstorm of vulgarities in Malay.

A few minutes later, he caught up with Suhaimi and asked if he was a homosexual. He was by then with Muhammad Sufian, Ho and Lai.

When Suhaimi ignored him, Ahmad punched him in the face till he fell onto the floor. Muhammad Sufian restrained Ahmad and helped Suhaimi up onto his feet.

As Suhaimi ran down the staircase, Ahmad again shouted vulgarities at him.

This time, Suhaimi stopped in his tracks and stared at Ahmad.

It would cost him his life.

Ahmad chased him down the staircase with Muhammad Sufian in tow. Meanwhile, Suhaimi had made a run for it, reaching the ground floor before Muhammad Sufian, who had earlier helped him, kicked him in the back.

Suhaimi fell to the ground and was kicked and punched by Ahmad, Muhammad Sufian, Ho and Lai.

Muhammad Ridhwan and Helmi, who were bystanders, also joined in.

The men stopped only when a taxi driver shouted at them. Later, he also called the police. By then, Suhaimi was unconscious.
The six men were subsequently arrested.
There has never been a reported hate crime in Singapore – not that it has not occurred before, just that it has been only whispered quietly between friends.
Last Updated on Thursday, 25 February 2010 18:13
Articles -
LGBT Rights, Politics & World News
Written by sayoni
Saturday, 25 October 2008 00:00
This news article is taken from here.
KUALA LUMPUR – ONE of Malaysia's highest Islamic bodies has banned females from dressing or behaving like men and engaging in lesbian sex, saying it was forbidden by the religion.

The National Fatwa Council on Thursday issued its ruling following a two-day meeting that discussed recent cases of young women apparently behaving like men and exhibiting homosexual tendencies, state news agency Bernama reported.

Council chairman Abdul Shukor Husin told Bernama many young women admired the way men dress, behave and socialise, violating human nature and denying their femininity.

'It is unacceptable to see women who love the male lifestyle including dressing in the clothes men wear,' Mr Abdul Shukor was quoted as saying.

'(Masculine behaviour) becomes clearer when they start to have sex with someone of the same gender, that is woman and woman,' he said.

'In view of this, the National Fatwa Council which met today have decided and taken the stand that such acts are forbidden and banned,' he said.

Male homosexuality, considered against the order of nature, is illegal in Malaysia but lawyers say female homosexuality is technically permissible as there are no provisions for it under the law.

The Fatwa Council does not have jurisdiction in civil law, but the ruling appears to be an attempt to push female homosexuality towards illegality.

Islam is the official religion of Malaysia, where more than 60 per cent of its 27 million people are Muslim Malays who practice a conservative brand of the religion.
Until now, there was never a clear pronouncement on the status of lesbians in Islamic law (in South-East Asia). Given the proximity of Malaysia to Singapore, the influence is likely to spread to here and other South-East Asian countries.
However, we respectfully disagree with this pronouncement on two grounds: firstly, lesbianism is not an imitation of masculinity. Yes, some members of the community do dress in a masculine fashion, or behave as such. But not all. Loving another woman is not an expression of this masculinity, it simply is a manifestation of an innate trait.
Secondly, there are alternative views within Islam on the issue of homosexuality. A council of moderate Muslim scholars in Jakarta concluded that homosexuals and homosexuality are natural and created by God. (For news report, see here). For years, there have been Muslim people speaking up about their sexuality and exploring the junction between their faith and sexuality, ultimately reconciling the two.
We sincerely hope the government of Malaysia does not adopt this fatwa as law.
Articles -
LGBT Rights, Politics & World News
Written by (Guest Writers)
Tuesday, 16 September 2008 00:00
This poem was written by a Guest Writer, Judith Sarah
Dear Singapore,
Do you know who I am?
Perhaps you already know me
By my name, and 7-digit ID
But I guess that's where your knowledge ends
So well Hello, I'm on a mission.
To help you understand
That I will be who I am;
So please Singapore, just listen.
___
I'm a girl birthed from your Singaporean soil
Right into your ideal Singaporean family-
2.2 children, HDB flat, parents,
And of course, bill-paying perennially.
I've spent a lifetime going to your best schools,
Won all your book prizes, and scholarship money;
Now at eighteen, and none the wiser,
But somehow with you, I'm still quite happy.
I'm the girl who used to think
That you and I were through,
But who now just can't help writing
To you, about you, for you.
___
But really, who am I to you?
You scrutinize me through your prescribed glasses,
In this great nation of myopia;
You ruthlessly label me a criminal,
In this law-and-order-Utopia.
So to you I am simply that delinquent
Who craves cigarettes and thrives on rage;
Who somehow managed to break 5 of your laws,
Before her legal age.
You see me as one who can never fit
Into your perfect mould of 'living';
The woman who may never bear you
Those children you've been so badly craving.
To you, I will always be the eroder of your social fabric.
I want to love you, Singapore.
But can you ever love me back?
Last Updated on Thursday, 25 February 2010 18:02
Articles -
LGBT Rights, Politics & World News
Written by sayoni
Thursday, 05 June 2008 00:00
Kanako Otsuji became Japan's first openly lesbian politician when she was elected to the Osaka Prefectural Assembly in April 2003 at the age of 28 – making her the youngest person ever to be elected to the Assembly.
In 2007, Ms. Otsuji was an official Democratic Party of Japan candidate. She lost the Upper House election with 38,229 votes. If she had won, she would have been Japan's first openly gay national politician.
Over breakfast, she talked to Sayoni about being an openly gay politician in Japan.
What motivated you to get involved in politics?
The biggest reason is that I'm a lesbian. I have been a minority in society and it took me quite a long time to accept myself. I questioned myself over my sexual orientation for 4 to 5 years.
After I had accepted myself, I started becoming involved in the community and became aware of its situation. I realized the reason why lesbians hide in the closet: it was not because of who they were, but because society forces them to hide themselves.
As I struggled to accept myself, I hoped to change society. During that period, I was a student and got an internship with a politician – that's how I learnt that politics can change society.
During my interview with the politician to obtain the internship, I told them about my sexual orientation and I asked them what changes politics could bring.
While I was on internship, the office I was working for actually brought up questions to the assembly about gay people. I was very moved. Laws pertaining to LGBT had been underground until then (swept under the carpet).
Politicians were influential and I actually felt it. After seeing this, I realised I wanted to be a politician and make changes. Other than this, I was inspired by Harvey Milk (openly gay San Francisco politician). I had read about him in a book/documentary and watched a film on him.
What helped you to come out after 5 years of struggling?
First, the internet. Second, I was 18 when I started thinking about whether I was a lesbian. That was in 1993. At that time there was no internet. While I was questioning my identity, I had no idea who to talk to and where to go.
In 1995, female singer Michiru Sasano came out as a lesbian and that inspired me. The actual reason was that I started to become involved in the (LGBT) community in 1998. There were girls I liked, but their answer was always 'no', because of religion. I became involved in politics because of this – I had bitter feelings about this issue and I didn't want it to happen anymore.
How has being a politician changed your life?
Everything! Being elected as a politician is making yourself public. I have more responsibilities. If I were politically inappropriate, word of it would become news. In that sense, it was not easy for a 28 year old lady. In the assembly, younger women often do not have a chance to speak. That's why I had to obtain my own opportunity. So I studied the issues hard, because I would be picked on if I don't know anything. I needed to educate myself to destroy the stereotypes.
When I came out to the party, my perspectives and position changed.
On hindsight, would you have done anything in your life differently?
In 1995, I experienced a great earthquake in the city-port Kobe and 6000 people died from it. I learnt from that episode that life is precious and understood that our lives could end at any time. Through that experience, I learnt that I did not want to regret not doing anything. I decided to be myself and not regret later.
What do you consider your greatest achievement and your greatest challenge?
First, to come out as a lesbian. Second, to run for election as a openly gay person. I am proud of myself, that I had actually done it in Japan. I believe many people were encouraged and inspired. What one politician can do is limited, but this is still a great thing to do.
I received 300 over emails from supporters. It was the greatest achievement and also the biggest challenge.
What do you see as your greatest challenge in the future?
To get elected again. When I run in another election and find a party from which to obtain endorsement, as I have done previously, I would like to be recognized as a politician that happens to be queer, not just known as a lesbian politician. I have not reached that level yet. In the election that I lost, I had mainly focused on identity politics. During that time, I was aware that it was important that a lesbian was in politics. Now that I have done that, I'd like to go to a higher level.
For those of your fans out there who are wondering, do you have a girlfriend?
I have no comment on this. The election has brought a lot of sacrifice to my personal life.
Finally, do you have a message for your supporters outside of Japan?
The changes that have been brought to Japan, which is often considered conservative, were achieved by making our voices heard, so I believe you can make your voices heard too. Believe in yourself.
Kanako Otsuji's official website is http://www.otsuji-k.com
Last Updated on Thursday, 25 February 2010 17:58
Articles -
LGBT Rights, Politics & World News
Written by sayoni
Saturday, 10 May 2008 00:00
This was reported in the Straits Times on 8th May.
IN THE first case of its kind, a chef infected with HIV was charged in court yesterday with engaging in oral sex with a 16-year-old without first informing him of the risks of contracting the virus that causes Aids.Chan Mun Chiong, 43, pleaded guilty to that charge as well as to another of committing an act of gross indecency with the teen.

The Ministry of Health summons charge said he had oral sex without first telling the teenager about the HIV risk. He also failed to get him to voluntarily agree to accept that risk. The offence carries a fine of up to $10,000 or up to two years in jail, or both.

The sex charge said that the bespectacled, spiky-haired man and the boy performed the sex acts in a cubicle of a men's toilet at the Northpoint Shopping Centre in Yishun on Sept 15 last year. For the gross indecency charge, he faces a jail term of up to two years.

Chan, who did not have a lawyer, was released on $10,000 bail. He is expected back in court today for his case to be dealt with.

He does not face stiffer penalties that were passed by Parliament last month as they had yet to go into effect.

Under amendments to the Infectious Diseases Act, those found guilty of having unprotected sex even if they do not know but have 'reason to believe' that they have or have been exposed to HIV can be jailed for up to 10 years and/or fined up to $50,000.

The Health Ministry has in the past investigated some cases, but no one has been prosecuted until yesterday.

One case was compounded last year. In another case, a foreigner being investigated left the country in 2005 before he could be charged.
'Tis the season, not for merry and joy, but for news after news of institutionalized homophobia, here in Singapore. Firstly, two media providers were separately fined by the MDA for airing content deemed to be too pro-gay, barely weeks apart. Secondly, a gay sauna was unreasonably and (possibly extra-legally) raided by the police.
At that time, we thought it was already treading the line that the Prime Minister Lee Hsien Loong set down, in the parliamentary debates of 2007:
There are gay bars and clubs. They exist. We know where they are. Everybody knows where they are. They do not have to go underground. We do not harass gays. The Government does not act as moral policemen. And we do not proactively enforce section 377A on them.

(Sing. Parliamentary Debates, vol. 83, col. 2354 (23 October 2007) (Prime Minister Lee Hsien Loong)).
They promised not to harrass us, but what else can one consider the sauna raid as? A friendly visit by the friendly neighbourhood cops?
Note, the key-term in PM Lee's speech is proactively enforce. They did not promise not to enforce, and with this, a very clever political game has been played. Firstly, as the word "proactively" slips past the consciousness, the gay community is expected to pipe down and not complain about s377A contravening their rights. But it still gives them enough latitude to take it out as and when it is convenient – like in this instance.
Clearly, non-proactive enforcement is not enough for our protection, lest anyone thought we could just sit back and go about our lives in peace. There is no telling when the Damocles sword will drop, or will start swinging back and forth dangerously instead of just hanging there.
Whether or not this man gets ultimately convicted under the Infectious Diseases Act, a matter for the judge to decide, clearly something has gone wrong in the workings of the bureacracy. An enthusiastic public prosecutor has decided it is appropriate to bring double liability for his "crime". The vindictive crusade to punish him under the s377A as well, brings to mind an earlier case of Tan Boon Hock v Public Prosecutor [1994] 2 SLR 150. In that case, the accused was entrapped (in an anti-gay operation) and charged under s354 – a charge of outrage of modesty against the police officer who entrapped him. Such a charge defies logic, and clearly the learned Chief Justice Yong Pung How thought the same, and acquitted him of the same, opining that the police officer, in choosing to act as bait for entrapment, had consented to whatever contact they had. Perhaps it is time that we collectively come to the realisation that prosecutors should not be persecutors, and secondly, we should be wondering why the legislative stance on the sparing usage of s377A has not trickled down to the prosecution.
Indeed, any public health justification for s377A disappears in the face of the Infectious Diseases Act which explicitly serves to deter risky sexual conduct regardless of sexuality, which further makes the double liability a perplexing matter. Unless of course, the real motivation behind the double liability is to specifically deter gay men from not disclosing their status to their partners, having been classified as a high-risk group by the Ministry of Health. This stand makes for bad criminal law, bad social policy, and bad public health policy. The real way to deal with the HIV situation is education and outreach, and for a change, honest and open outreach, not slap additional fines and prison sentences.
But until our government realises that taking a paternalistic, punitive stand is about as effective as a parent placing increasingly unreasonable and strict restrictions on their children who are growing up and earning their independence, any hope for a shift in the legislative trend is misplaced.
Related Links:
PLU Media Release – Chan Mun Chiong should not have been charged under Section 377A
YawningBread – Here's Proof: Section 377A being enforced
Articles -
LGBT Rights, Politics & World News
Written by sayoni
Monday, 28 April 2008 00:00
The following news story was spotted on the blog of a local gay blogger – the original newsletter that was sent out is not available for linking. Club 1-7 is a male-only sauna, and such saunas are popularly associated with cruising venues for queer men.
From 1-7 newsletter

Dear members,

Our water supply was turned off at 10pm on the 25th April 2008, Saturday. When we opened the back door to investigate and turn it back on, a few plain-clothed officers from the CID rushed in. Sam immediately tried to stop them and demanded to know what was going on. They told him that they were conducting a 'spot-check'. When asked what they were checking for, they simply repeated 'spot-check'. the officers refused to specify what they were checking for despite repeated demands. Sam also asked if they had a warrant to check the premises. They refused to reply.

At this point in time, we turned on all the lights upstairs and downstairs to alert the members that a check was going on. None of the members were stopped from dressing or leaving, nor were they searched or any particulars taken.

When a female officer tried to enter, Sam repeatedly shouted that she was not allowed to enter as we are a private men's club and insisted that she leave. Thereupon, the supervising officer threw Sam to the ground and twisted his arms behind his back to handcuff him. Because of this, Sam sustained cuts to his wrist and bruises on his left rib, for which he was later brought to the Singapore General Hospital for treatment.

The officers only removed several DVDs and Sam was arrested and spent the night in jail. He has been charged with assaulting (pushing) the officer that handcuffed him despite never having laid hands upon him. Sam is 74 years old. The officer was about 40.

We apologise for any inconvenience caused and will give a free return visit to anyone who was here when the incident occurred – just tell the front desk.

We are open for business as usual for our 8TH YEAR from 11:30am to 11:30pm on weekdays and from 11:30am till 7am the following day on Fridays and Saturdays.

Club One Seven.
Editor's Note: The above letter has been edited for minor grammar and spelling, but the content has not been altered.
We are aware that this is only the point of view from Club 1-7, and there has been no official media release on the matter. We are also aware that no one was actually charged with s377A, which reads as follows:
Outrages on decency.
377A. Any male person who, in public or private, commits, or abets the commission of, or procures or attempts to procure the commission by any male person of, any act of gross indecency with another male person, shall be punished with imprisonment for a term which may extend to 2 years.
Given the above version of events are true, the questions to ask ourselves are such:
1. What was the police doing there without a search warrant?
2. What were they looking for? We are assuming it is not Mas Selamat.
3. Given the authorities have repeatedly promised not to use s377A during the recent parliamentary debates, why are the police raiding the premise? As a scare tactic? If we have been told we can live our lives in peace, why the (unauthorised) raid on a private establishment?
4. How do you lawfully charge someone with assault when the law enforcement officer initiated the aggression, and the accused did not defend himself?
Sayoni believes that raids like this are reason enough not to trust the authorities on their word that s377A will never be enforced, and hence we should not be stopping our efforts to repeal this antiquated provision. It is a Damocles Sword which might drop at any second- it gives the police a legitimate excuse to intrude in our activities, sexual or otherwise.
Articles -
LGBT Rights, Politics & World News
Written by sayoni
Saturday, 26 April 2008 00:00
Barely weeks after Starhub was fined 10,000 for showing a lesbian kissing scene, another TV station has been slapped with a fine.
TV Channel 5 has been fined by the Media Development Authority (MDA) for an episode in an acquired series, "Find and Design". The episode normalises and promotes a gay lifestyle and was aired on Sunday, 13 January 2008 at 7.30am.

The programme "Find and Design" is a home and decor series and in the episode concerned, the host helps a gay couple to transform their game room into a new nursery for their adopted baby. The episode contained several scenes of the gay couple with their baby as well as the presenter's congratulations and acknowledgement of them as a family unit in a way which normalises their gay lifestyle and unconventional family setup. This is in breach of the Free-to-Air TV Programme Code which disallows programmes that promote, justify or glamourise gay lifestyles.

MDA also consulted the Programme Advisory Committee for English Programmes (PACE) and the Committee was also of the view that a gay relationship should not be presented as an acceptable family unit. As the programme was shown on a Sunday morning, PACE felt that this was inappropriate as such a timeslot was within family viewing hours.

Taking into account the severity of the breach, the telecast time of the programme and the fact that this was a second breach for MediaCorp TV, MDA found that a financial penalty was warranted and issued MediaCorp TV a fine of $15,000.
So, just showing that gay people exist, and can be happy, is such an anathema that it has to be regulated by repeated stiff-upper-lip fines and threats, in this sunny island of Singapore. Once again, the authorities fail to recognise that there can be no "promotion" of homosexuality – people are either queer or they are not.
What is this harm that they are bending over backwards to protect the people from? Because, the only thing that will result from watching the program is that maybe more people will be more accepting of homosexuality and learn that it is possible to have a happy gay family, that we are not all drug-using promiscuous unhappy people. Once again, this change in attitude, the acknowledgment that gay people are human, does not mean that they are going to BE gay. We are normal people living normal lives, paying our mortgages and taxes, going to work, contributing to society.
The authorities are trying hard, very very hard, to make sure there is no way that attitudes can be changed in any way. What they are protecting is not families, but the shell that people live in, to make sure there is absolutely no possibility intolerant attitudes can change, because that would really mean the end of the world, if there was a little less hate in our hearts for people who are different from us.
Protecting hate can be a tough job, and we extend our congratulations to the authorities for doing a fine job of it.
Articles -
LGBT Rights, Politics & World News
Written by AnJ
Saturday, 03 November 2007 00:00
Let me refer to the article by Detenber et al (2007). The famous article used to support the retention of 377A.
Reference:
Detenber, B. H., Genite, M., Ku, M. K. Y., Ong, C. P. L., Tong, H. Y., & Yeow, M. L. H. (2007). Singaporeans' attitudes towards lesbians and gay men and their tolerance of media portrayals of homosexuality. Internal journal of public opinion, 19(3), 367-379.
The anti-repeal camp jumped upon this statement made in opening statement of the conclusion segment: "Overall, this study found that most Singaporeans hold negative attitudes toward lesbians and gay men, and are rather intolerant towards media portrayals of homosexuality." (Page 373).
What the researchers did: they called up Singaporean citizens over a period of 5 days and conducted interviews. They found that 68.6% of the participants expressed negative attitudes.
Here's the break-down of predictors for negative attitudes:
1. Religion: Specifically Christians and Muslims were found to be least tolerant among Buddhists and free-thinkers.
2. Age: Older people are less tolerant.
3. Educational level: More educated people are more tolerant.
Articles -
LGBT Rights, Politics & World News
Written by Indu
Wednesday, 24 October 2007 00:00
Dear Ms Thio

I am not as learned as you in law. I am but a first-year law student. A law student who happens to identify as queer, and has spent the last two years working in the queer activism scene, who now loves a woman, who now wishes to rid this country of the blight known as section 377A.

Ms Thio, I am sure you know this section very well… in fact, you dedicated an entire speech to the impassioned defence of it, not even touching on things like marital rape immunity. I am surprised… I thought an educated, feminist woman like yourself would have some feelings on this section which effectively takes away the right of married women to their bodies…. but I digress. You expounded in detail upon the merits of retaining this law. You showed us all how much you hate us gay people – like we couldn't tell from the letters to ST. When I read your speech, my first impulse was to laugh. Then as I read on, cringing at the leaps of logic, and wincing at the palpable hatred pouring out of the paper.

I will now proceed to rebutt you: point by point.

 
Last Updated on Thursday, 25 February 2010 18:11
Articles -
LGBT Rights, Politics & World News
Written by Indu
Sunday, 23 September 2007 00:00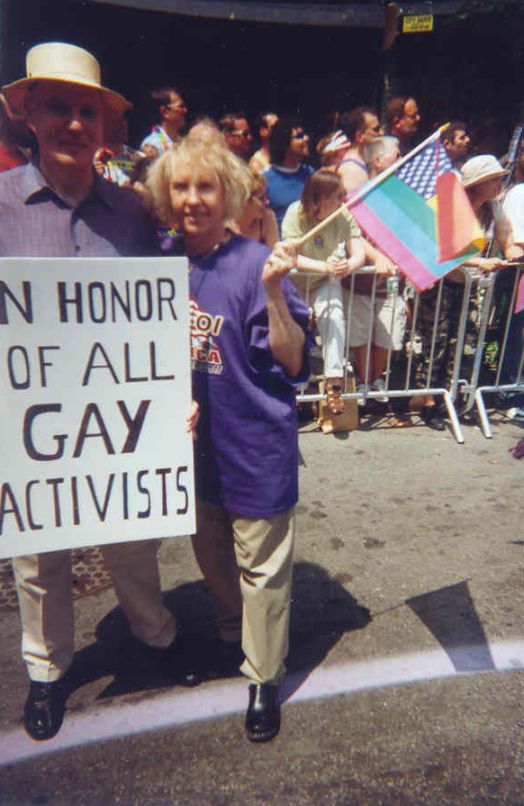 Image from Stonewallvets.org
Lee Hsien Loong has spoken, echoing both his predecessors in his views on homosexuality. It is interesting how the Father, the Holy Goh and the Spirit all seem to come down on the same side of the fence, willing to decriminalise but seeming to hold back for the fear of the "conservative majority"1
As of this moment, I will not deny that my morale is pretty low. It does not seem likely that the decriminalisation will take place in this penal code review. We neither have the time, nor the political climate, or rather, weather, on our side, given that the second reading is just 1 month away. In the first place, the announcement of the first reading took us by surprise, as it was originally slated to take place next year. By the time we learnt about it, it was too late.
Last Updated on Monday, 01 February 2010 17:18
« StartPrev1234

5

6NextEnd »
Page 5 of 6
About Us
Sayoni is an organisation based in Singapore for lesbian, queer, bisexual and transgender women. Read more about us.